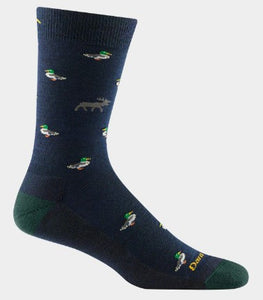 Duck Duck Goose | DARN TOUGH Mens
Height:
 Crew
Weight:
 Lightweight
Pair with:
 Sneakers, casual boots, fall blueberry picking hikes
Men's crew socks average 10.5 in. from heel to cuff - expect them to rise about 8 in. above a casual sneaker or shoe.
A performance knit means no slipping, no bunching, no excuses. Your feet deserve more than just a boring old dress sock.
Silky soft Merino Wool is a natural choice for breathable, long-wearing comfort and effortless style.
Lightweight yarns create socks that are so smooth and comfortable you'll want to wear them all day, and the next.